The Old Elephant's Christmas 2013
Performances for Schools (December 9 – 20)
DVD for sale at McNally Robinson Booksellers (more below)
Hello Teachers and Teacher-Librarians:
Our show will be available to Saskatoon and area schools from December 9 to 20, 2013. We are also open for a minimum of 2 shows in Regina, Prince Albert or other cities within 250 km of Saskatoon. We are available for a minimum of 4 shows in Swift Current or Yorkton.
Please email my agent Tracy as soon as possible if your school wants to book OEC.
The Old Elephant's Christmas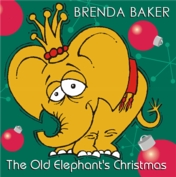 was created especially for kindergarten to grade 4 students.
Through story and participatory songs I share a whimsical tale of one of the world's smallest elephants — in actual fact an antique tree ornament that has been passed down through the generations.
One Christmas season, while decorating the family tree, a little girl decides that the old elephant ornament is simply too dull and unattractive to be used anymore, so she leaves it wrapped up in a storage box.
On Christmas Eve, when all the ornaments traditionally come to life, they are shocked and dismayed to discover that their dear friend is missing! How will they find him and get him back up on the tree where he belongs?
Several relevant themes are woven into the story, including the importance of friendship and family, the value of growing older and wiser, and the belief that beauty is in the eye of the beholder.
Thinking of booking The Old Elephant's Christmas for your school?
Here's what you need to know:
performed with pianist and collaborator Sheldon Corbett
target audience: kindergarten to grade 4
show length: 55 minutes
follow-up activity kit provided
The following simple advance preparations are required from teachers and students:
ensure sound system is adequate
provide a decorated Christmas tree
have the K – 4 students practise sound effects, as noted in the advance instructions
review a few familiar carols with the students, as noted advance instructions (these will be mailed to you with the Teachers' Kit)
At this time the show is available for schools in Saskatoon and up to 75 km outside of the city (unless you have multiple bookings in your area to offer, as mentioned above).
For bookings and price information, please contact Tracy.
Here's what schools have said:
It was perfect… the opportunity for the children to join in on the traditional and the original songs was great! The characters and the topic were ones the students could relate to.
Greystone Heights School, Saskatoon (This was a teacher's review of the show in 2000. They have booked OEC several times since then!)
We really enjoyed Brenda's awesome voice and Sheldon's accompaniment… so polished and professional… schools often can't afford to hire such a superior quality production!
Venture Heights School, Martensville
The humour and message were super for children… the students thought the music was great and we would definitely recommend it to other schools!
Vanscoy School, Vanscoy
…she told a heartwarming story… Brenda's ability to captivate the audience with her wonderful storytelling and beautiful singing voice was incredible. The children were all mesmerized and eagerly participated throughout the performance… We highly recommend that you consider including Brenda's production in your festive activities.
Fairhaven & St. Mark Schools (joint show), Saskatoon
Brenda Baker presented two performances of OEC [at our large school]…[In both shows] she captivated the audience for the entire 50 minute performance. The story was great, the music was great and the performance was enjoyed by all.
Scott Dyck, Principal, Warman Elementary School, 2010
[In our small school] we were fortunate to have an intimate setting which only added to Brenda and Sheldon's fantastic performance. Brenda's wonderful storytelling and singing talents…kept the children interacting with her consistently throughout the play… The themes were universal and all-inclusive in nature. Afterwards our children, teachers and parents alike spoke highly of the concert and were extremely thankful we were able to bring it in.
Shannon Senecal, parent, Maria Montessori School, Saskatoon, 2010
The Old Elephant's Christmas was a wonderful way to bring in the season. Interacting with the students and having them involved in her songs and story kept them focused during the whole performance… a fun and enjoyable afternoon.
Lorna Nelson, Valley Christian Academy, Osler, 2010
This program captured the attention of audience members — young and old — for the entire time.  Brenda, accompanied by Sheldon, used the magic of her voice — both with words and song — to leave the listeners yearning for more!  It was a most heart-warming and captivating performance.
Eileen Deneiko, Brevoort Park School, Saskatoon, 2008
Our school thoroughly enjoyed the show. It was a warm, easy-going production which had the children in K to 4 totally engaged. We loved the way Brenda interacted with the kids. We would definitely recommend the show to other schools and would love to have it come back to River Heights again.
Sue Boryski, River Heights School, Saskatoon, 2008
2013 Public Performance
Proceeds to The Tori Slade Fund
Sunday, December 15 @ 3pm
Grosvenor Park United Church, Saskatoon
Tickets: It's FREE! Donations to the fund gratefully accepted in lieu of ticket fees.
Now on DVD!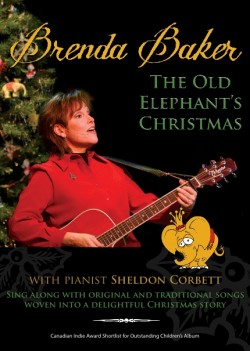 The Old Elephant's Christmas was recently released on DVD. Taped before a live studio audience, it captures the experience that's had families returning to the event year after year — good old fashioned storytelling blended with traditional and original seasonal music, perfect for singing along.
SCN Television ran the show every Christmas for five years!
Check out a few photos here.